Be nice to people 

Perseverance, persistence and patience go a long way 

Song-writing is like storytelling; start with the end in mind 
Full podcast can be found HERE.
Who is Bill Padley? 
Bill Padley, originally from Paisley, Scotland, is an award-winning radio presenter, record producer and songwriter. He has recorded, producer and written for artists including Atomic Kitten, Shayne Ward, Sheryl Crow, Ronan Keating, Lulu, Blue, Gareth Gates, and many more. 
Bill describes his musical upbringing on What Do You Say? with Gavin. When he was only 3 years old, Bill's uncle made and gifted a guitar to him. Bill never had any music theory training and wouldn't describe himself as a technical musician in any way. 
However, he watched his father play the guitar when he was a child, allowing him to learn chords and master natural rhythm. Bill explains that he was able to recall any keys and chords from listening to a piece of music, which came in useful for the community and group renditions that Bill quickly became adept at.  By the age of 11, Bill had taken his performing to another level appearing on national TV show, Junior Showtime. 
At the age of 13 Bill had taken in interest in Radio initially helping during school leave at Radio Victory, though quickly moving on to presenting. By the age of 16 Bill became the Breakfast Show host, the youngest person to do so for a UK National station to this today. 
In 1983, Bill was headhunted by Richard Park from Radio Clyde in Glasgow, where he worked as a presenter and then also a music producer for 4 years. Working with perennial bands of the Scottish music scene such as Deacon Blue, Hue & Cry and Del Amitri.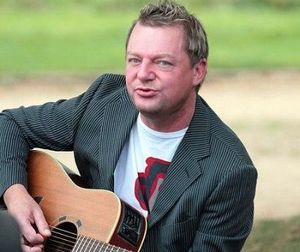 1. Be nice to people 
During What Do You Say? Bill humbly advises, "be nice to people on the way up". Be kind to the people you work for and work with; and explains that someday your kindness may pay off. 
When working for Radio Victory, in Portsmouth, Bill was friends with singer-songwriter Julia Fordham, when Julia was a Youth Opportunities Worker (a government work experience scheme). Julia sang jingles on Bill's radio and they worked together in various musical capacities. 
After moving to Radio Clyde, Julia phoned Bill looking for a recording studio to record her demos in. Coincidentally, Bill had recently built a home studio, however, he realised he could not realistically take 6-8 weeks of holiday from work. Bill described a small voice, inside his head, to "go for it". Bill resigned from Radio Clyde, the second largest radio station in the UK, where he was "earning a fortune and having a great time" to leave and get paid £500 (in total) to record and produce a record for Julia Fordham. Bill explains that taking this risk nearly left him bankrupts; despite the record being very successful, he didn't earn much from it and states "that was the way it was in those days". However, he reminisces and describes it as an "incredible experience". 
Bill described the struggles he experienced after leaving Radio Clyde; explaining that "you'd think that once you'd produced one record, more would come", however, this is not always the case. After working with Julia, it took Bill a while to get back on his feet. Nevertheless, Bill expressed how thankful he was for making his decision; he believes he would have remained working at Radio Clyde until even now, had he not taken the leap of faith with Julia into the world of production. He wouldn't have had the successful song-writing career that he did.
Bill notes that sometimes there is no safety net and passionately states that you have "the balls sometimes", to say "I'm gunna do this".
Patience, perseverance and persistence go a long way 
In 2000, Bill started Wise Buddha Music; where, with a college, Bill would go on to put his production and song writing talents into practice. Through his contacts at Virgin, they were offered an unfinished song to work on. Maybe it could be successful? Bill took the afternoon to write melodies for the song - which was mostly spoken at this point. With developing new melodies, producing and with Bill singing, Bill and his co-writer presented the demo back to Virgin; and that song was 'Whole Again' by Atomic Kitten. However, the song was not released instantly. It took a while. The song sat around untouched for an entire year before its release. Bill tells What Do You Say? listeners that Atomic Kitten were actually dropped before the song were released. It wasn't until the wife of the record company owner, Hugh Goldsmith, believed that they should release 'Whole Again' that it was revived. Goldsmith's wife believed the song it to very different from previous music and could be "the one". The single sold over 1.3 million records and stayed at number 1 for 4 weeks. 
One year later, Bill was commissioned to produce 'The Tide is High' for Atomic Kitten. Bill explained how he believed this to be an impossible task to compete with Blondie's rendition of the song. However, with perseverance and using his imaginative creativity, Bill managed to create another successful hit while creating a whole new style of 'The Tide is High', setting it apart from Blondie's rendition and from its original form by The Paragons, in 1967. 
The song goes to number 1 in the UK and Europe and remains there for 3 weeks. The song is also a massive hit in the US when it is used in the 'Lizzie McGuire Movie'. 
As an example of demonstrating patience, That's My Goal was held back for a full 12 months due to a disagreement between Simon Cowell and Steve Berntien. Bill never knew for sure it would be retained, fast forward 12 months it sold 1.1million copies and would go on to win an Ivor Novello award. Hear the full story of that here.
Bill's prosperous career has also taken him to work with artists including Ronan Keating, Shane Ward, Blue, Westlife, Deacon Blue, Liberty X, Sheryl Crow, and many more.
Song-writing is like storytelling, start with the end in mind 
Within the What Do You Say? podcast, Gavin and Bill touch on the process of song-writing. Bill enthusiastically trusts in individuality when it comes to artistry and believes that there is not 'one size fits all' with regards to song-writing. 
Bill warns that people can get attached and obsessed with their lyrics, melodies and songs. The acid test though is: 'can I sing this melody?' 
When asked on how he writes songs, Bill enlightens podcast listeners that he views song-writing as his job. He keeps a consistent song-writing method throughout all of his work, regardless of the artist or genre. 
He like to work from a song title. Bill strongly believes that beginning with a clear image in your head is an effectively method to understand what your message is, much like storytelling. 
Bill exemplifies, "If your song is going to be called 'my dog is dead' then in the chorus you would write 'my dog is dead, my dog is dead, oh dear, my dog is dead'." He explains that in order for your song to make logical sense, you would need to state in the first verse that you have a dog, and, before the chorus, you've got to explain to the listeners what went horribly wrong for the dog. 
Effectively, you're mapping out your song through storytelling with the beginning, middle and end.